.
Top Link Cylinders - Fixed Mount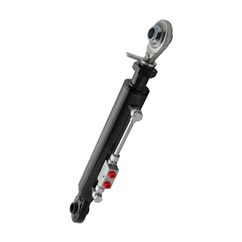 Flowfit Hydraulic Top Link (Fixed Mount) 50x30x200x470mm 745AAR
£170.85
exc VAT (£205.02 inc VAT)
Top-link cylinders are easily attachable components of a hydraulic system. They allow users to bypass a great deal of the complexity which installing a hydraulic cylinder can require and drastically simplify most 3-point hitch operations. These cylinders are typically used to control the forward aft movement of hitches and other hydraulic systems. We are proud to offer Flowfit hydraulic top-link cylinders/rams (fixed) 610 series.
Flowfit Hydraulic Top-Link Cylinders/Rams (Fixed) 610 Series
Flowfit hydraulic top-link cylinders/rams (fixed) 610 series have all undergone extensive testing, and have been intelligently designed to ensure long-lasting and reliable service. Making certain that you have chosen the ideal components for your system is absolutely essential if you want your system to run at its optimum capacity, and severely reduce the risk of damage that the system might suffer.
For more information, feel free to contact our team of hydraulic and mechanical system specialists today on 01584 876 03301584 876 033. Alternatively, you can email us directly at sales@flowfitonline.com, and we'll get back to you as soon as we can!