.
Double Acting Cylinders With Spherical Ends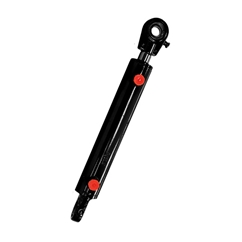 Flowfit Hydraulic Double Acting Standard Cylinder/Ram 32x20x50x260mm 1..
£78.94
exc VAT (£94.73 inc VAT)
Double Acting Spherical Ends
Double-acting cylinders stand out from their single-acting alternatives due to their efficient design. Instead of featuring only a single port, through which the hydraulic fluid can enter, these models have a port on either side. This means that the pressurised fluid can enter on either side, enabling it to power both the cylinders retraction and extension. Whilst this increases the fluid consumption of the system component, it can also dramatically increase the power that the cylinder/ram provides.
Flowfit Double-Acting Hydraulic Cylinders/Rams 400 Series
As the UKs leading provider of hydraulic system features, we are dedicated to providing our customers with the perfect components for their needs. Each and every one of our designs, including the Flowfit double-acting hydraulic cylinders/ram 400 series, has been extensively tested to ensure complete and long-lasting reliability in a system of the correct specifications.
If you have any questions, or youre just looking for more information on any one of our hydraulic components, get in touch with our hydraulic specialists today on 01584 876 03301584 876 033.