Want to know more about Hydraulic AC Power Units?
Firstly, let's start by introducing the Hydraulic Power Unit.Hydraulic Power Units are the main driving component of any hydraulic system and are a lot more powerful than people initially think.Made up of a hydraulic pump, electric motor and an oil tank, a Hydraulic Power Unit can generate a large amount of power in the form of pressure and flow. The number of applications that Hydraulic AC Power Units are used for are very high, they are often used a lot more in everyday life and are more diverse than people first think.A lot of industries and powerful machinery rely on hydraulic power units and are used in a wide variety of applications such as:
Agricultural Equipment,
Marine Equipment,
Industrial Equipment,
Construction Equipment,
Automation,
Aerospace Equipment,
Machine Tools,
Meat Processing Tools,
Mill Machinery,
Government/Military Equipment,
Theatrical and Production Equipment,
Subsea Equipment.
Whether you are operating car lifts, scissor lifts, tipping trailer or goods lifts, Hydraulic Power Units are there to make machinery and equipment run more smoothly, whilst making a huge difference when used. Other benefits you will find when using a hydraulic power unit are that they will ensure safety for its purpose; they will be cost efficient, reliable and generate a large amount of power.Flowfit's Hydraulic AC Power Units are most commonly found within factories but are not restricted to industrial use. They are based on a range of 110V or 240V AC Single Phase and 415V 3 phase motors from 0.25KW to 5.5KW. The steel tank sizes vary from 5L to a 12L horizontal tank or a 20L Horizontal tank depending on your motor size. Plastic tanks are also available with sizes varying from 4L to 18L horizontal/vertical. The Hydraulic AC Power Units have longer continuous duty cycles in comparison to the DC motors. They offer higher working pressures and flowing rates due to the power they can offer in terms of KW's. There are three types of Hydraulic AC Power Units that are available; Single Acting which has a 2 position solenoid valve, Double Acting which has a 3 position solenoid valve and Pressure and Tank Circuit for those who already have their control gear. These units offer pressure up to 230 Bar and flow rates up to 14L/min.Interested in a Hydraulic system such as a Power Unit or specifically an AC one? Then check the Hydraulic Power Unit section of the Flowfit website for more information.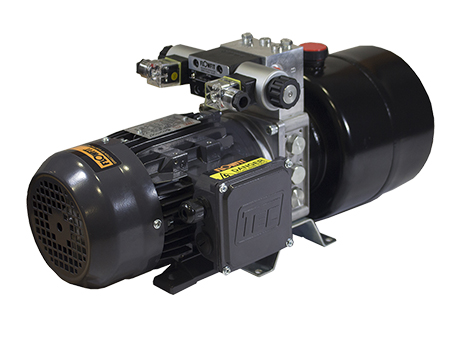 Can we tempt you? If you're searching for reliable hydraulic products, come to Flowfit. We have a wide selection of products to choose from including, valves, pumps and hoses, we even have a 'build your own hose' option.If you have any questions regarding any of our products and would like to contact the Flowfit team, you can do so in a variety of different ways:· You can send your questions to us using live chat (you can find this on the right hand side of your browser)· You can contact us by telephone by ringing 01584 876 033· You send an email to sales@flowfitonline.com
Or you can use our enquiry form
The total one-stop supplier for hydraulic components & systems