.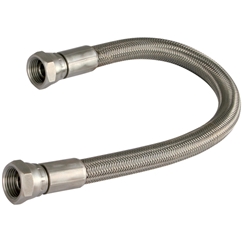 Convoluted PTFE Hose with Mild Steel BSPP Ends - 1/4"" BSPP, 1/4"" Bor..
£16.55
exc VAT (£19.86 inc VAT)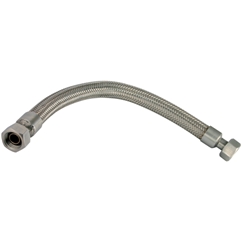 Stainless Steel Hose with Mild Steel BSPP Ends - 1/4"" BSPP, 1/4"" Bor..
£29.26
exc VAT (£35.11 inc VAT)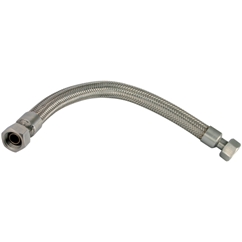 Stainless Steel Hose with Stainless Steel BSPP Ends - 1/4"" BSPP, 1/4"..
£34.17
exc VAT (£41.00 inc VAT)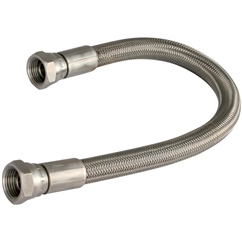 Convoluted PTFE Hose with Stainless Steel BSPP Ends - 1/4"" BSPP, 1/4"..
£41.77
exc VAT (£50.12 inc VAT)
Here at Flowfit we offer a variety of metallic flexible hoses. Hoses with mild steel ends and hoses with full stainless steel ends, whichever suits your needs.
High Quality Hydraulic Components Built To Last
We pride ourselves on providing only the best hydraulic components, systems and backup available. We are dedicated to ensuring that the customer has both a great high quality product and customer service that is second to none.
A Wide Choice Of Options To Choose From
By clicking our orange 'more options' buttons you'll be given the ability to select various lengths from 300mm to 2000mm and a variety of different thread sizes, from 1" to 3/8" BSPP.
No matter what type of project you're planning Flowfit has the supplies you need to get the job done in a swift and cost effective manner.
Top Quality Metallic Flexible Hoses From Flowfit
Here at Flowfit, we have been providing people with high quality hydraulic components since 1996. We work hard to provide customers with better and better services and items, constantly perusing new ideas and products that could benefit our customers.
Thanks to our high quality customer service and top quality products, we have become a QMS ISO 9001 registered firm. We are extremely proud to receive this qualification. We look forward to getting the chance to show you why we have been chosen to receive one of the UK's more prestigious customer service awards.
Call Flowfit Today For High Quality Hydraulic Components
For high quality metallic flexible hoses look no further than Flowfit. If you have any questions or need any advice on what products you need for the project you're planning then please don't hesitate to contact our dedicated team of specialists today on 01584 876 033 or email us on Sales@flowfitonline.com, we'll be happy to help.