. Eagle Pro Air Hydraulic Pump, Foot Operated, 680 bar, Oil Capacity 229..
£540.34
exc VAT (£648.41 inc VAT)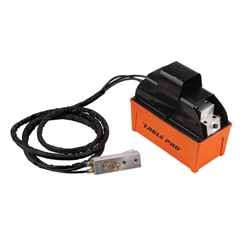 Eagle Pro Air Hydraulic Pump, Remote Control, 680 bar, Oil Capacity 16..
£722.83
exc VAT (£867.40 inc VAT)
Hydraulic Hand Pumps
At Flowfit, we are proud to be able to say that our hydraulics equipment is of the highest quality and are solely designed to help you to finish the job in hand. We are proud to stock a range of hydraulic
hand pumps.
What is a hydraulic
hand pump
& what does it do?
A hydraulic
hand pump
is a pump that is often used in a hydraulic system. They convert mechanical energy into hydraulic energy. These pumps provide the ability for hydraulic flow through fluid powered hydraulic devices.
High pressure hydraulic
pumps will be used in every hydraulic power transmission system. A hand pump (as opposed to an electric one) is better off being used in a low power system. As the power input in these devices is low, they can be used for smaller requirements such as brake systems.
Advantages of using
hand pumps:
●
Efficient - Achieve high levels of pressure with little effort.
●
Economical -
hand pumps
are cheaper than electric pumps
●
Stable- Made well to limit leaks and enable pressure stability.
●
Precise - Good for use when a high degree of precision is required.
If you have any questions, or aren't sure what you need, please don't hesitate to give us a call on 01584 879 033 or alternatively, e-mail us on