.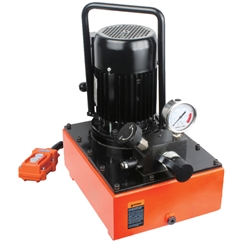 Eagle Pro Electric Pump, Two Stage, 0.55 kW, 5.9 Litres, For use with ..
£2,571.84
exc VAT (£3,086.21 inc VAT)
High Pressure
Electric Pumps
At Flowfit, we offer a wide range of high pressure hydraulic equipment.
Our electric pumps offer high performance and value for money.
A pump is used to transfer liquid from one place to another, or to move liquid around a hydraulic system. The difference that you get with an electric pump is of course that it is driven by an electric motor
As you would expect, an electric pump needs power in order for it to work, and then will convert the electrical power into mechanical energy.
Why use an electric pump instead of a hand pump?
●
Can be used successfully in a variety of locations
●
Successful when pumping oil and water.
●
Low cost for a high volume of fluid.
If you have any questions, or just want to find out more information on our hydraulic equipment and services, please don't hesitate to give us a call on 01584 879 033 or alternatively, e-mail us on
sales@flowfitonline.com